Apoorva D Patel
---
Research Interests:
Lattice gauge theories
Renormalisation group
Light-front QCD
Quark-gluon plasma
Quantum computation
Languages of genes and proteins
Black hole thermodynamics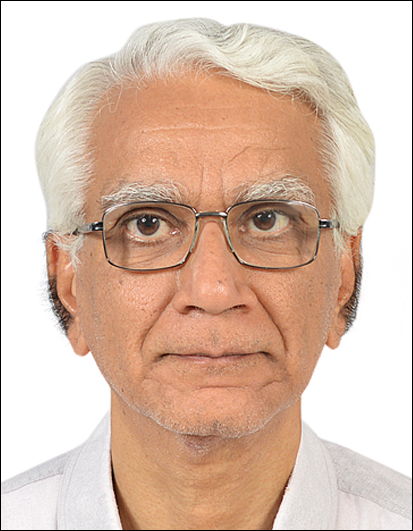 In case you want to get a better idea of what I do, have a look at my list of publications.
Here is my video lecture course, Relativistic Quantum Mechanics, as part of the NPTEL programme.
My work on genetic languages has received wide publicity.
---
Selected Talks:
QCD:
Computation:
Life:
---
Education and Experience:
Centre for High Energy Physics (2004 onwards)
and Centre for Theoretical Studies (till 2003)
and Supercomputer Education and Research Centre (till 2015)
Indian Institute of Science, Bangalore, India
Professor: 2006 - present
Associate Professor: 1995 - 2006
Assistant Professor: 1989 - 1995
Theory Division, CERN, Geneva, Switzerland
Scientific Associate: 1987 - 1989
Theoretical Physics, University of Wuppertal, Wuppertal, Germany
Research Fellow: 1987
Physics Department, University of California (San Diego), La Jolla, USA
Post-Doctoral Research Fellow: 1984 - 1986
California Insitute of Technology, Pasadena, USA Ph.D. in Theoretical High Energy Physics: 1980 - 1984
Indian Institute of Technology, Bombay, India
M.Sc. in Physics (5-year integrated course): 1975 - 1980
Awards and Memberships:
Associate Member of the Abdus Salam International Centre for Theoretical Physics, Trieste, Italy: August 1996 - December 2003.
"Rajiv Gandhi" research grant for innovative ideas in science and technology, 1997, awarded by Jawaharlal Nehru Centre for Advanced Scientific Research, Bangalore.
Associate Member of the Indian Academy of Sciences, Bangalore: July 1990 - December 1995.
"President of India" gold medal for topping the class of 1980 at Indian Insitute of Technology, Mumbai.
---
My Students:
A. Sarva Lakshmi Devi
M.Tech. (Computational Science), 2003
Project: Simulation of a Quantum Computer
Raghunath A. Ratabole
Ph.D. (High Energy Physics), 2004
Thesis: A Transverse Lattice QCD Model for Mesons
Tathagat Avatar Tulsi
Ph.D. (Physics), 2009
Thesis: Generalizations of the Quantum Search Algorithm
Md. Aminoor Rahaman
M.Sc.(Engg.) (Supercomputer Education and Research Centre), 2009
Thesis: Search on a Hypercubic Lattice using Quantum Random Walk
U. Satya Sainadh
M.S. (Physics), 2014
Thesis: An Efficient Quantum Algorithm and Circuit to Generate Eigenstates of SU(2) and SU(3) Representations
Roopesh Mangal
M.Tech. (Computational Science), 2015
Project: Spectral Properties of Classical and Quantum Random Walk Operators on Ramanujan Graphs
Pranav Mundada
B.S. (Research), 2015
Project: U-spin Symmetry in D_s^+ and D^+ Meson Decays
V. Anjani Priyadarsini
Ph.D. (High Energy Physics), 2017
Thesis: Efficient Quantum Algorithms for Linear Algebra Problems
Parveen Kumar
Ph.D. (High Energy Physics), 2017
Thesis: Dynamics of Weak Measurement
---
My Ph.D. pedigree can be found here.

My Wikipedia page is here.
My page in the Silver Jubilee Reunion Book, Class of 1980, IIT Bombay, is here.

You can inspect my personal book collection here.

Information to contact me at home is here.

Return to CHEP Home Page

Last modified: 14 August 2014